Last month I had the chance to visit Hobbitenango, Antigua Guatemala's latest attraction. Well, it's not exactly in Antigua, but its marketing efforts are aimed at the traveler crowd that flows through Antigua year-round. These restaurant/camping grounds have unmatched views – you'd need to go on a 6-hour volcano hike to get the views you can enjoy from here. In fact, on a clear day, you can see five volcanoes from here: Pacaya (near Guatemala City), Agua, Fuego, Acatenango, and even Toliman at Lake Atitlan.
From left to right: Pacaya, Agua, Fuego, Acatenango and Toliman volcanoes.
As you can guess by the name, the concept is based around the idea of building a real-life Shire – J.R.R Tolkien's "Lord of the Rings," if you still don't get the hobbit/Shire references. The project is relatively new and somewhat rough around the edges, but the owners of what used to be a personal camping spot aim to build a self-sustaining, environment-friendly complete with organic garden.
Restaurant (center), private cottage (left), dorms (right)
As of right now, Hobbitenango has a two-bedroom cottage (very rustic and charmless) as well as dorms (ditto). The plan is to build real-life Shire houses – take a look at what they might end up looking like here. But in the meantime, demand was so high for lodging that the owners quickly built up two cabins. Since we were there after the cottages had recently been built, it's possible some touches have been added to make them a bit more interesting. The private cottage is Q400 a night, dorms Q60/bed, camping Q20/night – you must bring your tent.
Private cottage structure at Hobbitenango
Hobbitenango's main lounge
The property's showstopper is its Hobbit house-like round door, which it's my guess would become the most photographed door in Antigua if the grounds were located there.
 Fuego and Acatenango volcanoes can be seen in the distance
Even the restrooms have million quetzals views.
Bathroom at Hobbitenango – Agua volcano in the background
Getting to Hobbitenango
You can drive up to Hobbitenango – it's reasonably straightforward to get there. Just head north on 1ra Avenida Norte, as if traveling to Cerro de la Cruz – go past it. Once you get to Aldea El Hato (where the turnoff for Earth Lodge is) keep driving uphill on the paved road. After 5-10 minutes you'll spot the sign to Hobbitenango on your left.
Entrance to Hobbitenango
Here's where things get a little dicey. From this point forward, the road is rutted and only fit for 4×4 vehicles. You can leave your car parked on the side of the road and huff your way uphill. More on that in a moment.
Alternatively, you can catch a shuttle in Antigua – Q15 per person for the ride up, Q10 for the ride down. Shuttles start departing from Antigua every two hours – the first one leaves at 8:00 am, the last one at 6:00 pm. They leave from Roo's Hostel (6a Avenida Norte #42) and will make stops at Samsara (6a Calle Poniente #33) and Zoola Hostel (7a Calle Poniente #15) provided you call the folks at Hobbitenango ahead of time to let them know you'll be waiting at one of the last two stops (phone #: 5909-9106).
In any event, shuttle vans will only take you so far as they're not 4×4 vehicles. From the bottom of the hill is a strenuous (for us at least) 30 minute walk uphill. Unless you're in top physical shape, or don't mind making lots of stops to catch your breath  – it's up at 2,400 meters here – pay the extra Q10 per person and have a pickup get you at the bottom of the hill.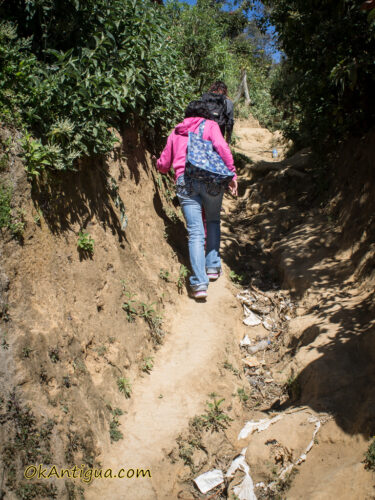 The "easier" uphill walking path of the two
Once the uphill walk levels off a bit, the scenery turns very pleasant.
Walking paths
As you get closer, Hobbitenango will come into view.
Hobbitenango in the distance
Getting closer…
After an arduous walk, reward yourself by plopping on the couches and ordering a cocktail or smoothie. Oh yeah, the food…
Hobbitenango Restaurant
We arrived at about 11:00 am, so we were ready to order lunch. For some reason – none was ever given – lunch can only be ordered at 1:00 pm. In the meantime, you can order off the breakfast menu, which is what we should've done. Instead, I ordered appetizers (nachos/tostadas with black beans, guacamole, and salsa – good)  and waited around so we could try the burgers. The strawberry and yogurt smoothies we ordered with the appetizers were also good.
After counting down the seconds until we could finally place an order at exactly 1:00 pm – again, baffling – we had to wait until past 2:00 pm to finally eat lunch, even though the place wasn't even near crowded or busy. Hopefully, they've worked out the kinks now – just don't expect service to be efficient or timely.
Jalapeno Burger at Hobbitenango
The burgers were great, if a bit sweet and somewhat undercooked – we were never asked how we wanted them grilled. Again, the owners and caretakers couldn't be nicer or more welcoming, but the place isn't running like a well-oiled machine just yet.
 Hobbit-themed cocktails
Prices were fair: Cocktails cost Q35, appetizers Q30 or less, burgers Q55 and under, soups and salads Q30 and under. If the uphill walk hasn't woken up your appetite, maybe head for the nearby trails around the property to get it going. We'll probably be coming back.
Hobbitenango is open every day from 8:00 am to 7:00 pm.
More information at https://www.facebook.com/Hobbitenango
*****
What was your experience like at Hobbitenango?
Share below!