Antigua Guatemala is a foodie's paradise. There's over 150 eating establishments here, the majority within walking distance of each other. This is not a comprehensive list by a long shot. Below are the places friends and I love most here in Antigua – couldn't keep the list down to 10, which is a great thing.
Whenever possible, the link on the name will direct you to the menu. Hey, don't say we never did anything for you ;)
Price Guide
$ = Most Main Dishes under Q50 ($6.25)
$$ = Most Main Dishes are Q50 – Q100 ($6.25 – $12.50)  
$$$ = Most Main Dishes are Q100 – Q150 ($12.50 – $18.75)
$$$$ = Main Dishes over Q150 (Over $18.75) 
Breakfast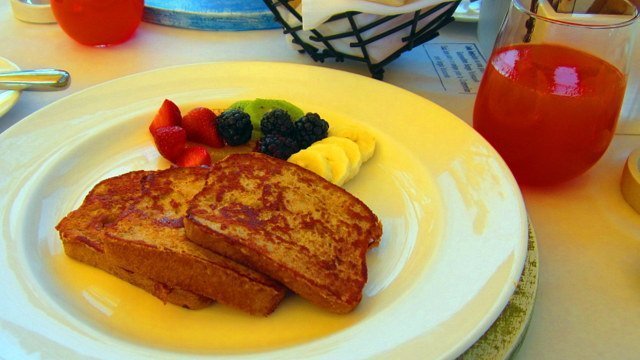 French Toast @ Tenedor del Cerro
Doña Luisa Xicontecatl: More delicious fresh-baked bread that you can shake a stick at. Try the banana bread. Breakfast is great here. Soups are awesome too, maybe the best I've had in Antigua. (4ta Calle Oriente #12). $
Fernando's Kaffe: Great coffee and chocolate. Limited menu, but you can't go wrong with anything you pick – has excellent WiFi too. (7ma Avenida Norte and Callejon Camposeco). $
Y Tu Pina Tambien: Bills itself as the hangover recovery place to be. Don't know about that personally -ahem- though I know that everyone raves about their muffins, sandwiches, pancakes, and friendly staff. I mean, c'mon… how can you say no to bacon pancakes, eh? Sunday brunch. (1ra Avenida Sur 10B and 6ta Calle). $
Refugio Coffee Bar: How serious are you about your coffee? Is it something you just have to push through to jolt you out of your slumber, or do you REALLY love it? Either way, check out Refugio. If you've never had the good stuff, this is a good place to start living life the right way, my friend. The smell of roasting coffee beans wafting to the street every morning should be your clue that you're in for a treat. (7th Avenida Norte 18A). $
Rainbow Cafe: Inexpensive, good breakfast, sandwiches and salads at lunch time. Popular with the foreigners. They also have live music on weekends, open mike nights on Wednesdays. (7ma Avenida Sur #8 – International). $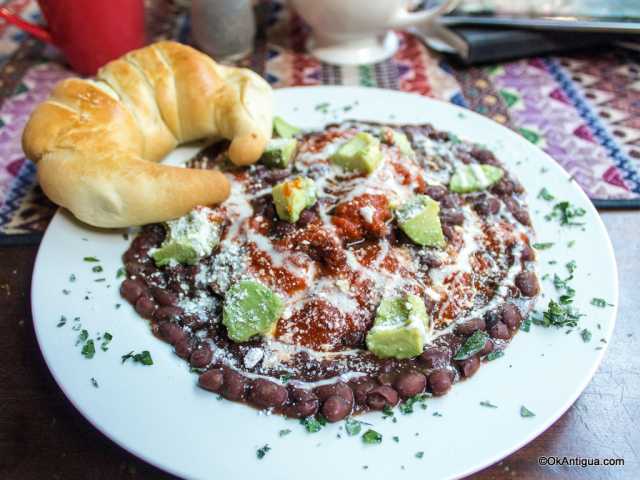 Huevos Rancheros @ Panaderia y Cafe Santa Clara
Panaderia & Cafe Santa Clara: Like at Doña Luisa, the strength of this establishment is its popular bakery. But its cafe is very underrated. All-day breakfast is tasty and priced right. They also have an extensive lunch menu. Go on the right day, and you'll also catch live music. (2da Avenida Sur #18 – International). $
Cafe Condesa: Strong coffee, great omelets. Conveniently located right across from Parque Central. And for you, late morning stragglers, you'll be pleased to know they serve breakfast all day! Sunday brunch. (5ta Avenida, West side, across Parque Central). $
Tenedor del Cerro: This place gets a mention not so much for the food, which is OK, but the marvelous views. Come here for breakfast on a bright, sunny day, and gaze at the volcanoes into the distance from atop beautiful Santo Domingo del Cerro – click to open in new window. To get here, catch a free shuttle at Hotel Santo Domingo. (Santo Domingo del Cerro – Closed Mondays). $$ (rating is for breakfast prices).
Finca Filadelfia – Cafetenango: Outstanding – if pricey by Guatemalan standards – breakfast. It was here that for the first time, after multiple failed attempts, I fell in love with a well-done corn tortilla. We visited over a year ago and to this day my wife, and I still daydream about their coffee. Outstanding, though you'll need a ride to get there since it's about a five-minute ride from town in nearby San Felipe. $$
Lunch/Dinner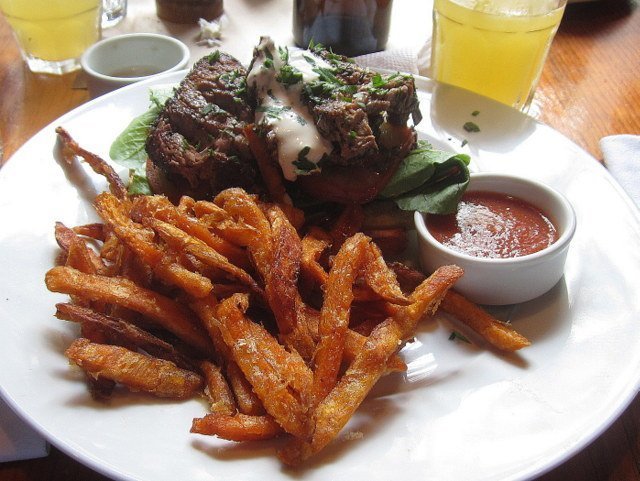 Hector's  
Pappy's BBQ: Ribs? Brisket? Pulled pork? In Antigua? Yup. Prepared by a born and raised Texan. Told you this was a town for foodies. Get a plate of ribs for Q25 on Fridays. Oh, and go early, because they run out fast out of everything. (6ta Calle Poniente #21B). $
Metiz Deli & French Bistro: Have yet to try this place, but everyone raves about it. The place is small, but the sandwiches are amazing. Heard good things about the "Burger Sandwich." Huh? Consider my interest piqued. (4ta Avenida Norte 4A – Closed Mondays). $$
Hector's: Love this tiny restaurant. Friendly staff, though it tends to get busy at times. Try the beef tenderloin, you won't be disappointed. (1ra Calle Poniente 9a – Next to La Merced Church). $$
Numa: Another favorite burger place in Antigua. Space is attractive and the staff friendly. (7ma Avenida Norte #16 – Closed Wednesdays). $$
Shtilero: Antigua's first food truck is a great place to grab a sandwich for lunch. Try the meatball sub, a crowd favorite. Combos usually run at Q30. Read our report here. (Various locations throughout Antigua- "Closed" Mondays and Tuesdays). $
Hugo's Ceviches: Sure, you can get ceviche out of the trucks parked out by Calzada Santa Lucia. But I gotta be honest. I don't get the appeal of eating delicious raw seafood while sitting on a stool placed on a dirty sidewalk, breathing chicken bus fumes. At the beach? Sure. But on the street? Instead, go to Hugo's proper location. Not only is it pleasant, clean, and you get your pick of more delicious food, expertly prepared, but there are bathrooms, a small playpen for the young ones, and even free WiFi! Sure, some may disagree, but I'll stick to the indoors location on this one. (7ma Calle Poniente #11). $$
Sunshine Grill Pizzeria: If you want a great pizza, don't bother with Dominos. Get one custom made at Sunshine Grill, a favorite of expats. Free home delivery too! (6ta Avenida Norte #68). $$
Sobremesa: Another restaurant that consistently gets high marks from everyone I talk to. What's taken me so long to go and try some of their unicorn steaks? Your guess is as good as mine. Will visit, eventually. I hear their ice cream is amazing too. (4ta Calle Oriente #4A). $$$
Bistrot Cinq: A genuine French bistro. Excellent for lunch and dinner with a big wine list and absinthe. Offers a Sunday brunch. Expen$ive. (4ta Calle Oriente #7). $$$
Cactus Taco Shop/Cactus Grill: Skip the overpriced Mexican joint near the Arch. This is the place for authentic and delicious enchiladas, tacos, and burritos. Try the Pescado Loreto and the shrimp and bacon varieties. (6ta Calle Poniente #21). $$
COMO COMO: With many raving fans, this restaurant is known for its fabulous seafood dishes. Run by a Belgian Chef, the staff is among the friendliest in Antigua. Pet-friendly, which is nice. (6ta Calle Poniente #6). $$$
Dinner
Por Que No? Cafe (Why Not? Cafe): Known for their eggplant dishes, this place won't appeal to everyone due to its quirky ambiance. But hey, pubs are not Disneyland nor supposed to be for everyone – character has to count for something these days, right? (2da Avenida Sur #9a). $$
La Peña del Sol Latino: A favorite of tourists and locals alike. Great food, live music starts at 7 p.m. (5ta Calle Poniente #15). $$
Meson Panza Verde: The place for a romantic evening or special occasion. Reserve the "Cueva" (grotto) if you really want to impress someone. High-end meals and wine to match, bring a loaded wallet and dress for the occasion. Although really, this IS Central America. You'd be easily paying double elsewhere for the same ambiance and food. (5ta Avenida Sur #19 – Continental cuisine). $$$$
*****
This small list is plenty enough to get you started sampling Antigua has to offer.
Is there a hidden jewel you'd like to see added to the list?
Send it our way or add to the comments below! The more, the merrier.